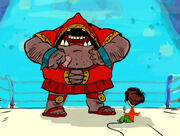 Gary aka the Hooded Fang is a wrestler. Jacob originally thought that he was scary until he realized that is was actually Gary, a kind person whom Jacob had previously met. He appears later in the series, trying to get rid of Carl Fester King.
His character differs much from the Hooded Fang in the original story by Mordecai Richler.
Ad blocker interference detected!
Wikia is a free-to-use site that makes money from advertising. We have a modified experience for viewers using ad blockers

Wikia is not accessible if you've made further modifications. Remove the custom ad blocker rule(s) and the page will load as expected.